Take your career to the next level
Behind the Scenes: A Film Production Alumni's Journey to Becoming a Steadicam Operator for Music Videos, Live Theatre and TV Series
We sat down with Ben Eeley, Film Production Alumni and Steadicam Operator, on the set of two music videos for Zac Abel. He told us about his studies at SAE, what it is like to work as a Steadicam Operator, and what it takes to kickstart a career in the film industry.
Tell us about yourself (your name/your job/what you studied/a hobby you enjoy doing).
I'm Ben Eeley. I'm a camera operator and Steadicam operator based in London. I went to SAE Institute, and I studied Film Production. As a Steadicam operator, I work mainly freelance, jobs come in left, right and center. I normally do a lot of commercials and I'm starting to move more into drama and TV narrative and feature film worlds.
Your role as a Steadicam Operator – what does an average day on the job look like for you?
So a normal working day is anywhere from 10 to 12 hours plus the overtime and that's from when we first get in and set up, talking about what we're doing for the day, talking about the shots, working them out, and then just operating the camera.
What are you doing here today?
We're shooting two music videos for Zac Abel, so it's two videos in one day which we don't normally do. It's quite chaotic, and there's a lot to do. 
Talk us through some of the projects you worked on since leaving SAE – which one was your favourite and why?
Some of the most notable projects I've worked on since finishing SAE would have to be D.C.'s The Flash, the feature film that's coming out this year. I have also just done an ITV drama called Without Sin. It started streaming in November of 22 and then hundreds of music videos, many commercials and a fair bit of live theatre. 
The best show I've done so far, I would probably say, was McBeth in 2021. We shot it with Saoirse Ronan and James McArdle as the leading stars and that was a week straight of rehearsals and live shows. I believe it's going into cinemas later this year. I'd probably say that is one of my favourites as it was the most challenging. It was live in the minute and I really like the live theatre world because we get to work with the actors and it's different every moment and there's no messing up. If you mess up, it's live so there's a lot more stress. 
How did you become a Steadicam Operator? What steps did you have to take to get here?
While studying at SAE I was privileged to be able to use the Steadicam pilot they had there. They gave me the bronze-certified Tiffen training there as well so that's where I really started to learn how to play with the Steadicam and how it works. From there, I invested in a more basic rig than I do now and went on the gold Tiffen course as the link was there through SAE to be able to be connected to Tiffen. To be able to get onto that course was really nice to have and then from there, I stepped up, bought a bigger rig and kind of just winged it into the industry from there. I think from when I started in my first year at SAE, I knew I wanted to be mainly camera orientated and DoP'd (director of photography) a lot of the major projects and later projects in uni, but I kind of realised lighting wasn't where I wanted to specialise in, so I started going down the more camera operating route and the easiest way to get in me, I found, was to go down the Steadicam world. 
I knew when I left I didn't really want to start assisting, training and coming up through that way. It would have taken years and years and years and I was already experienced on a Steadicam to a very basic level to where I could then take what I knew from there and take it to smaller jobs. I preferred to go straight into the role that I knew I wanted to do and specialised through that and really hone that craft instead of doing years of roles that I wasn't necessarily in love with and didn't want to do forever just to get to that point. I'd rather work longer at the lower level in the industry to try and push my career that way.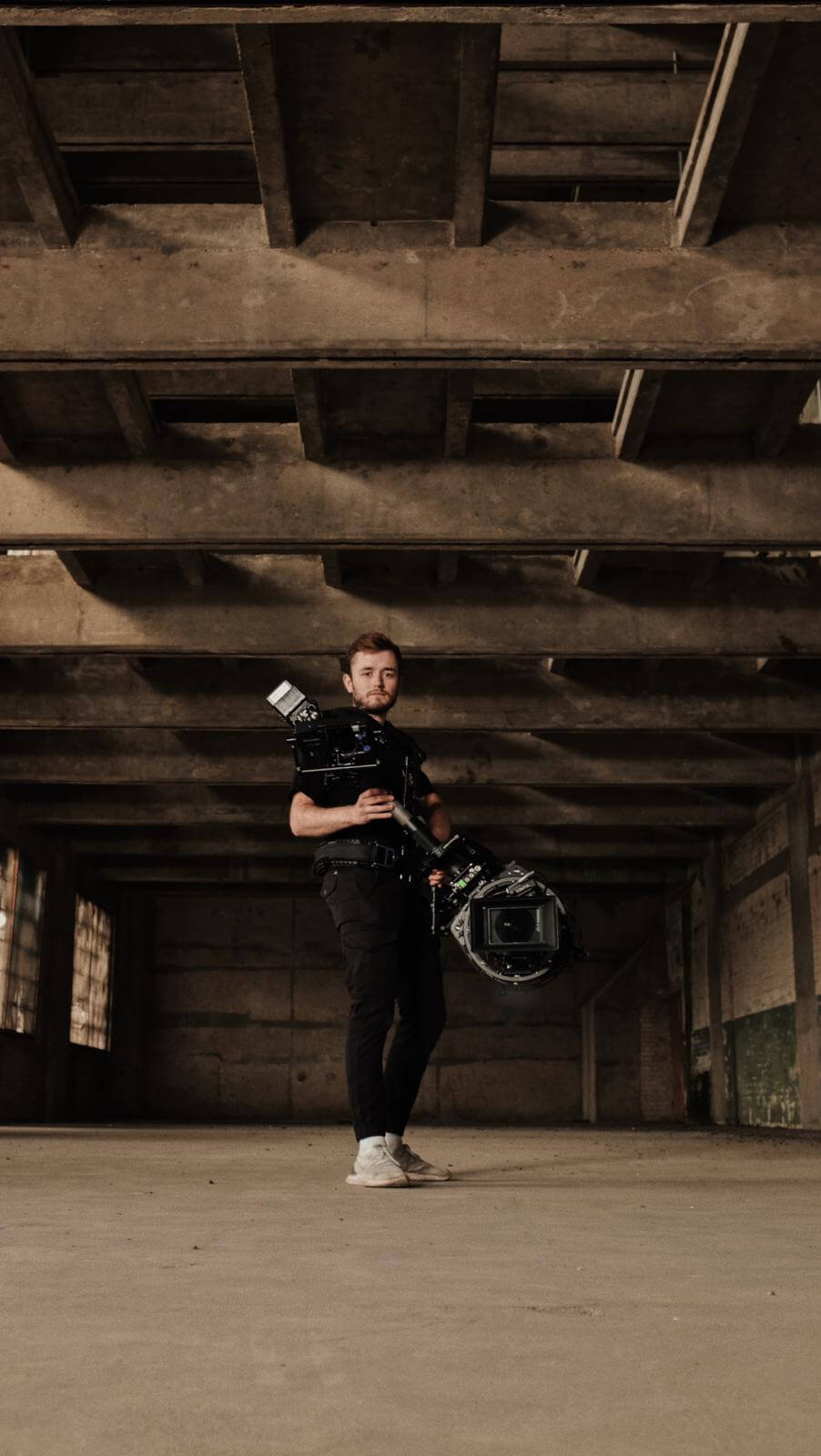 What kind of equipment do you use on the job?
So all the equipment I own is Steadicam, Tiffen, M2, Volt, sled, which is my my baby. I love this thing. I've got a GPI pro titan arm which I use and then I've got a custom Walter Klassen flex harness that is the vest I use. I use all three of these together and then whichever camera and lens combination that the productions use, I'll put on. So it goes from 35mm film cameras and 60mm film cameras all the way to all your digital bread and butter. Yeah, every day is normally a different camera build. 
Who are you mainly working with on set?
So when I'm on a set, I'm working mainly directly with the director and director of photography. The Director of photography, me and him will look at a scene figuring out how to cover it together. He's the one that's in charge however I'm there to give him a hand when it comes to – especially when I'm just a Steadicam operator – how to move this reliably and well while framing. So I'm working with him closely and along with the director that knows his vision, and we're just trying to make that vision come to life in the easiest way possible.
What made you pursue a degree in film?
So I was doing chemistry, biology, physics, and math, at AS- level, and I quickly realised that that was not a career path or anything that really drove me. I was doing quite a lot of photography at the time, so I knew I wanted to do something in the media world.
I dropped out after my level and then went to college for a year, and the college actually was tied in partnership with SAE which I was attending. So I went there for an open day and fell in love with it. I went to college for a year which was a recommendation that I should stay in and then I applied with my broken qualifications and college qualifications along with my portfolio, and that just about got me entry. It was pretty much the only option that I saw when coming out of A-level that I could see myself getting into the quickest while knowing that it was still going to offer me what I wanted out of the course. SAE was really, really helpful in the admissions process because I was in a bit of a limbo between doing two years at college or resetting one A-level, which I didn't want to do. I didn't want to spend all that time almost wasted. So they were really helpful with being able to take it off a portfolio basis as well. So I was able to give enough points through UCAS and my portfolio to be able to gain a place.
What made you choose SAE?
Oh the kit. The Steadicam. As soon as I got to second year and we were able to use some of the more advanced grip equipment, that's when I really started to enjoy the course more. I ended up buying my own camera towards the end of the course as well, mixing that with all they had and came out with quite a few nice films in my year.
How do you think SAE has helped you with starting up your career as a Steadicam op?
So SAE really helped me start my career by giving me access to the Steadicam even though it was one of the more basic models they were still there and available when they're normally very hard to get hands-on practice with. SAE were more than willing to just let me live in it so I just spent all my free time in one, learning it as much as I could. So when I came out, I went on all the more advanced courses, the specialised courses and I already had a very big understanding of how the basic structure of a Steadicam works. This really gave me a boost in getting some of my first jobs in the industry.
What advice would you give to film students at SAE?
My best bit of advice for people that are just starting out their film studies is if you're a camera nerd like me, just touch everything as much as possible. Just get your hands on it. Most of the time you can not sit around and waste it, just do it. You only get to learn by doing.
What's next?
Continuing forward now, I've been a Steadicam operator for three and a half years, I've just got something called my ACO which is my association of camera operators. So that's tacked on to my name now, which is amazing. I lost my mind when I got it. It's a really big achievement within the camera world and now I've got this and really I believe I'm going to start pushing the drama in the feature film world a hell of a lot more. I think it's where I want to live now. I've done like three and a half years testing the waters of commercials and music videos and everything and I, I think I'm most happy when I'm sitting shooting actors on a set narrative wise and just making a story that everyone can watch. I'm like, So because you went to the same questions about experience worked on one time like, yeah, sorry, smash it over.