From live sound to working in a recording studio, the world of music production offers many different career paths. You can learn more by studying our Audio Production degree and find out the best ways to market yourself as a producer in our new blog…
Networking, skill and an aptitude for self-promotion are at the heart of music producer marketing.
As a producer, you can have one of these elements in your arsenal and enjoy some degree of success – but it's a combination of all three that will take you far. 
Studying a course can act a as a great platform to launch a career to help you get to grips with basic business information, social media platforms, how music online works and the most effective ways to stand out from other producers.  
In our detailed guide, we'll explore how music producers can develop marketing strategies, discover their marketing demographic and grow their music production business.
Learn the essential skills 
All audio producers need to have their skills up to scratch before they begin to market themselves.
How can they do this? Well, undertaking a course with SAE can be a sure-fire way of gathering the necessary skillset to stand out in the industry. 
Antonio de Robertis, Audio and Music Business Programme Coordinator, said: "The landscape of production has radically changed over the years due to home production studios and self-producing – our course has responded to this by focusing on technical skills but at the same time, opening up further opportunities for creativity."
From learning the latest recording, mixing and mastering techniques alongside discovering how to collaborate and be successful in a creative studio environment, our degree can provide you with the perfect platform to kickstart your career.
How to define your brand 
To define your brand, you need to work out what your unique selling point is. Ask yourself how you differ from other producers? What do you provide that others cannot? Maybe it's a style, sound or you could be an expert with a particular piece of gear or software. Working this out is the starting place on your audio production branding journey. 
It can be tempting to try your hand at a variety of styles and techniques – and of course, versatility is a strength and can make you more employable.
Yet, having a specialism can also be extremely useful. If you are the go-to person for a certain style or sound, then this can lead to regular, long-term work. 
Ultimately, as long as you know why people should use your skills and you are producing quality music, then this is a great way to begin marketing yourself. 
Essential tips on successfully marketing yourself as an audio producer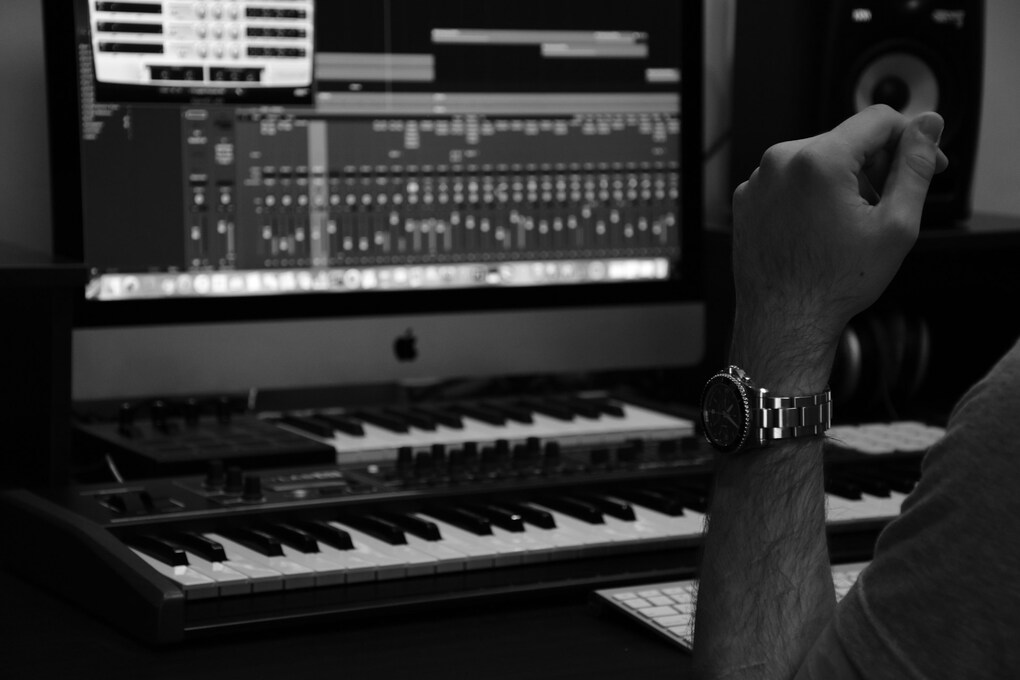 Music marketing is a key skill in getting your music heard, particularly in a world when there is so much new music released every week. Despite the competition, there are some marketing strategies that you can use to ensure you find the right audience as an audio producer.
For SAE Audio Production students, networking is an important part of the course.
Antonio said: "Networking is embedded into the course, our students need to network with their peers, students from other disciplines. For example, when they work on sound for games, then they need to work with these students. They have to understand how things work in a larger audio production context and agree on certain strategies." 
"We have a series of events that students can participate in with external companies and network. We want our students to get out there as much as possible and meet industry. There is also an opportunity for students to take on an internship and work with a company for a trimester." 
From streaming platforms to social media influencers, here are some of the best ways to market your career.
Showcase your work 
No one will employ you if they can't listen to your work. So audio producers should take some time to create a striking portfolio. Explore the most effective platforms to showcase your projects and consider what to feature. 
You can include a variety of projects to demonstrate your abilities and make sure you showcase your strongest productions. From creating a podcast or working on sound design for a show, using your best work is the most effective way to win over new clients.
Online Presence 
Your online presence will be one of the main ways that a new client or collaborator fan will find you. So it is worth investing some time and effort into creating a professional looking website. 
This online home should include plenty of information about you, the services you offer and contact details. It can also feature a biography, newsletter sign up (which is a great way of building a community around you and your music), a news feed for updates on different projects and links to social media profiles. 
Try and make sure that your website is regularly updated, showcases your skills effectively and reflects you and your experiences accurately. 
Engage with social media
A free and effective way of generating traffic to your website is by using social media. From Instagram and TikTok to Facebook, LinkedIn and YouTube, there are plenty of available platforms out there. Rather than spreading yourself too thinly across every social media channel, try to focus on a couple that you feel most comfortable with.
Research how to set up these profiles properly. So include an effective bio, professional looking image, contact links and more. Each platform is different and can offer a variety opportunities so spend some time getting to know the best ways to get the most from them.  
Content Marketing
Employing a content marketing strategy is an effective way of staying on top of content creation for your social media platforms. Utilising a site such as Hootsuite or Monday.com can help you plan what kind of content you will be sharing across each channel. 
As an audio producer, you should have plenty of opportunities to come up with high quality content. Consider sharing snippets of what you're working on, video tutorials, teasing forthcoming projects, photos of collaborators and new releases.
You can go outside of your own work and celebrate other artists and creatives, national days or events. There should be plenty to go at – but if you are struggling, then research some of your favourite producers and use their profiles for inspiration. 
Consistency is key 
Engaging with your audience on a regular basis is an essential aspect of a successful content marketing campaign. 
There's no point in having social media profiles if they are going to be dormant – so make sure you consistently use them to share your music and skills. Also, remember to apply the same look and feel across each platform you utilise. This will help reinforce your brand via the messages you share. 
Networking 
Networking with fellow audio professionals can be an important part of developing your career. 
Look out for industry events, conferences and workshops that are within your field of expertise. Attend and do your best to strike up conversations with speakers and fellow attendees. Doing so can help you build a network around you and your music and lead to more collaborations, referrals and ultimately work. 
Networking doesn't just have to happen in-person. A great deal of this can be forged online on social media. If you're looking for a specific person or influencer, then you can usually Google their email address. Remember, when online, behave as you would do in real life – so be polite, respectful and nice in all communications – this can go a long way in advancing your reputation and career. 
Collaborate 
As an audio producer, learning the best ways to collaborate can be an important tool. Getting on with fellow creatives and working out the most effective ways to work with local artists can be invaluable when making music. 
There are numerous benefits to collaborating – it can help expose you to new ideas, sounds and styles to enhance your creative process. By collaborating, this can also open up new opportunities to you and ensure you find work. You never know where someone can take you and the target audience you can find. 
It can be useful to work out how to collaborate online too – so the most effective ways of sharing files and audio without being in the same physical space as another creative. 
Create resources 
You can show off your abilities as an audio producer in a variety of ways – and one method is to create resources for others to utilise. 
By putting together a sample pack of sounds, beats or sonic textures, you can demonstrate your creative skills and how your audio production talents can enhance a project. You can add this to your website or social media channels such as YouTube and SoundCloud or even submit to music libraries. 
By making sounds and productions royalty free, content creators will be able to use them for their projects. You can ask for a credit and add to your portfolio as a way of demonstrating your abilities as an audio producer. 
Testimonials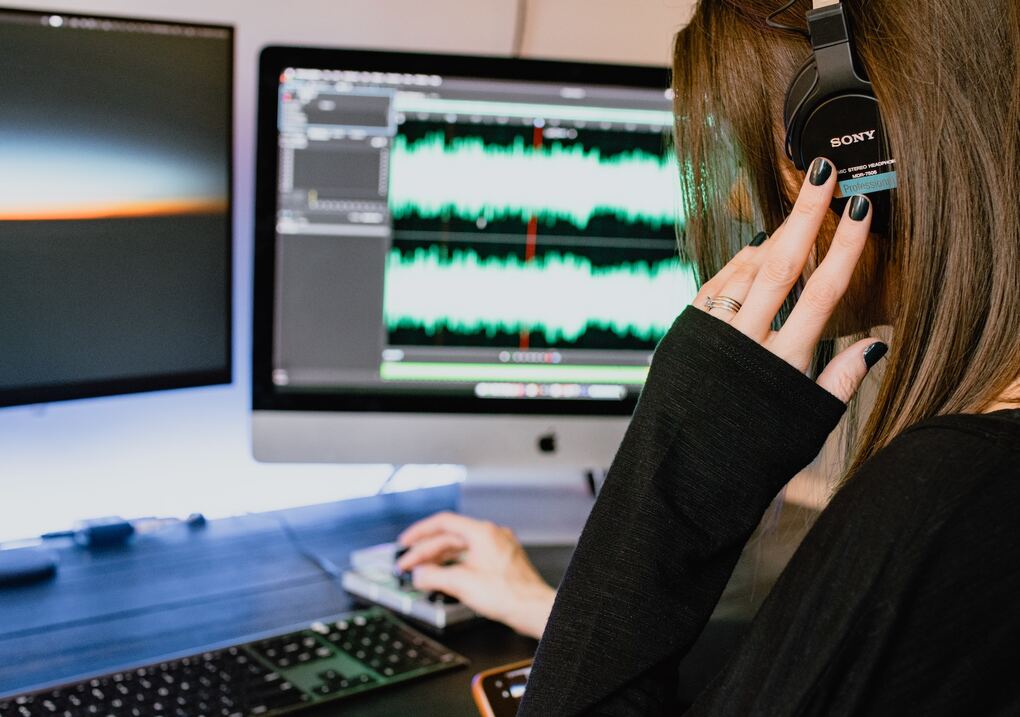 Few things carry as much weight in furthering the reputation of an audio producer as recommendations from peers or clients. Positive feedback can go a long way in enhancing your reputation and opening up more opportunities. 
You can create a section on your website with testimonials from clients. Alternatively, you can utilise a professional platform such as LinkedIn and request references from those you have worked with or collaborated with. 
Be clear about your services 
Use your online presence and social media channels to be clear about the kinds of services you offer as an audio producer.
From mastering and mixing to working in the studio on album projects, you can list what you offer via a dedicated section on your website. 
Also you can invite potential clients to get in touch for bespoke work if this is something you can provide. 
Collect email addresses for marketing 
An effective way of growing your audience and potential work opportunities is through collecting email addresses. You can have a sign up link across your website and social media profiles and encourage people to register by promising them offers or potential discounts.
Once you have an email database, then you can provide regular content to interact with this audience – a winning email campaign is an effective way of establishing a deeper bond with those who are interested in you and your audio productions. It's also a more effective way of reaching people than relying on social media algorithms. 
Create an Electronic Press Kit
Electronic Press Kits (or EPKs) are worth spending some time on creating if you want to promote your services. These kits feature an array of materials aimed at showcasing who you are and what you do in one place. 
For many artists and producers, a well-designed and well-put-together press kit can act as a business card and be an important tool in securing press coverage, obtaining a music review, or feature. 
Make sure it includes a bio outlining your USPs, some high-quality images (or photos that at least fit with your visual identity), links to your best productions (not downloadable files), any reviews or press features, details of any achievements or awards, and links to social media profiles or website. You should also include the most appropriate contact details too. 
Advertise your services 
If you want to stand out online and go beyond the rewards that organic online search can provide, then it can be worth investing in advertising your services. 
Consider running targeted online ads on platforms like Google Ads or social media to reach a broader audience. This will involve identifying the goal of a campaign, setting an advertising budget and creating the content you require to target potential clients. 
Work on building client relationships 
As an audio producer, you should view yourself as a brand and your clients as your customers. To grow your business, you should work on developing effective client relationships.
By focusing on effective communication and customer service, you can enhance how you are perceived.
Usually, audio producers who appear professional and reliable are those who get repeat work – and responding to messages promptly, being transparent and providing a good service are the most effective ways of achieving this. 
Stay on trend 
Keep up-to-date with industry trends, software, and technology. Demonstrating your knowledge of the latest trends, tools and techniques can be an excellent way of making you more appealing to clients.
Subscribing to and following websites and mags like Tape Op, Mix Magazine, Sound On Sound, Musicradar, and MusicTech can make it easy for you to keep your career on track and stay on top of what is happening within the music industry.
By reading these publications, you'll be able to find out about the latest gear releases, artists and producers and industry events too. You can also follow them on social media for more updates too.
Use influencers 
Working with influencers can be an interesting path to take when it comes to developing your audience. The likes of Cuckoo and Andrew Huang operate in music gear and production and have grown huge followings online with their viral content.
If you are looking for inspiration for social media or think you have an engaging content creation/music idea that might appeal to them, then it may even be worth getting in touch.
Host live events and meetups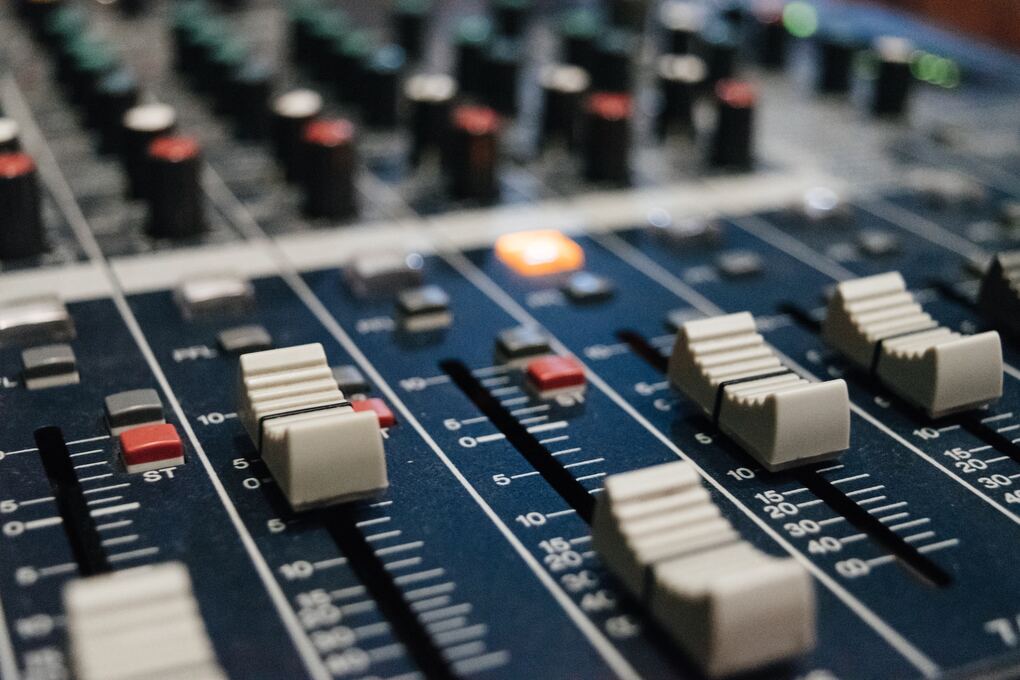 If you're looking to develop your reputation as a thought leader within the world of audio production, then hosting your own live events and meetups could work for you.
You can do this in person at a recording studio or online – but it's a great way of finding like-minded individuals, growing your network and ultimately opportunities for you and your brand.
Always look to enhance your skill set 
Never stop learning and refining your skills. Take courses, attend workshops, and seek feedback to become a better audio producer.
This is all part and parcel of growing your brand. By developing your abilities, you are boosting your own chance of business success. Good luck out there!
Study Audio production at SAE
At SAE, our Audio Production Degree can help students learn the latest production skills and techniques to further their careers.
Our course enables students to find out about the best ways to market themselves alongside getting to grips with the latest industry technologies, software and much more.