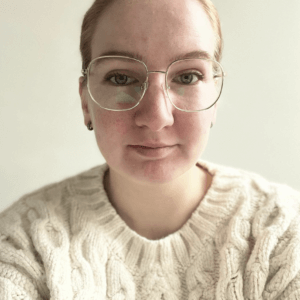 By Petra N.
Last Friday our students welcomed a one-of-a-kind visitor: Asaf Galay. Asaf Galay is a well-known documentary filmmaker who has produced many informative and in-depth films about people who generally work in the cultural sector. 
Coming from Israel, he has taken the path of opening up Jewish culture to the rest of the world through different famous artists. His filmography includes The Muses of Bashevis Singer (2014), Army of Lovers in the Holy Land (2018), and The Adventures of Saul Bellow (2021). 
At SAE Brussels the room had been darkened to showcase films, coffee had been drunk, and students were excitedly waiting outside the door. This was, in all fairness, the first event we had hosted on campus since the pandemic had started in 2020. 
"Netflix is changing the movie industry", is the comment that sets up the tone of the workshop. Netflix and other streaming services are indeed changing the way people are watching content. Not so long ago we did not have these platforms and our only solutions were to go to the cinema, a movie festival, or rent a DVD.
Consuming films in movie theaters versus at home encompasses a multitude of differences. Did you know, for example, that it is extremely important to hook the audience in the first ten minutes of watching, otherwise they will just exit the movie and watch something else? In movie theaters it is rare to see people leaving, even if they don't particularly enjoy the movie.
"Netflix is changing the movie industry."
Those are very good points, especially if you think about traditional documentaries that follow a chronological order. If there is no hook, it will be very difficult to catch the audience's attention should the person not be of exceptional title, like Kanye West for example. Mr. Galay shines in storytelling – "how to tell a story is my strongest ability" – having studied literature. 
As an example, we will talk about the documentary on the Eurotrash band from Sweden called Army of Lovers. The film starts with colourful songs that match the colourful personalities that we are presented with on the screen. Not chronological, the film has a bigger story behind it rather than focusing on the band's life. The story focuses on how one of the performers moves to Israel and how he is building his life there. The parts about Army of Lovers are flashbacks and tell a story from a different era.
Being able to provide storytelling is a sign of a good documentary filmmaker. This is where stepping outside the box comes in: you also need to be a good journalist, a people-person, and a friend to the subjects you want to talk about. And all that is not easy!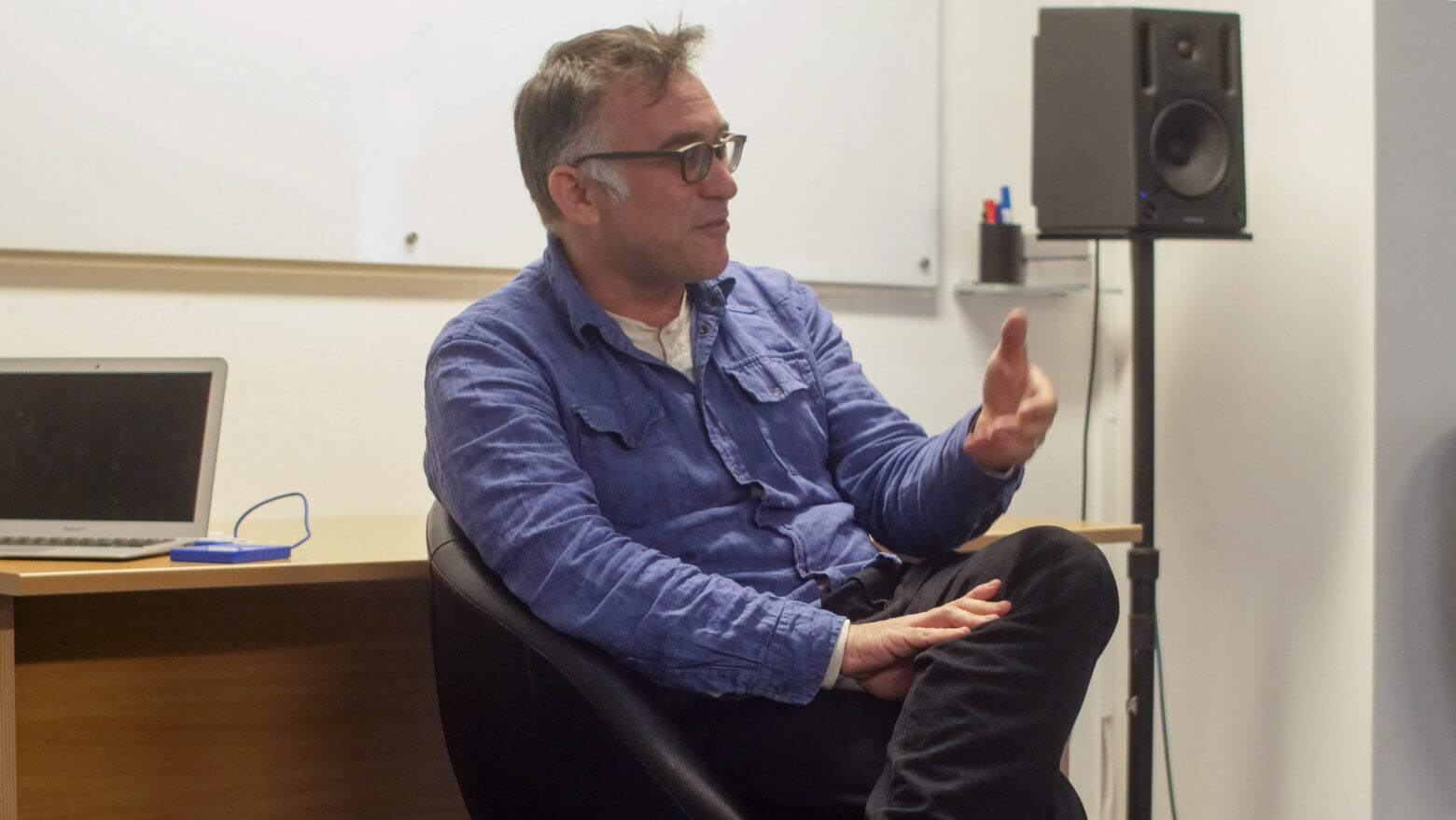 I bet many journalists and documentary filmmakers know that the subject might very often be evasive, get too many emails and not have time for you. This is where Mr. Galay suggests never stopping. Being persistent is key. "If someone tells you no, what do you do? Try again", is how Mr. Galay puts it. Of course, this only refers to getting in contact with people.
The start of The Muses of Bashevis Singer caught the audience's attention straight away with something that is usually bad practice in real life: by critiquing someone's physical appearance. It only lasted a couple of minutes, and then ended abruptly with the following sentence: "what's that got to do with how he writes"? The tone of the film was set.
At first glance, the film might seem to be about the women translators and writers that surrounded Mr. Singer, but through the clever storytelling, it is more about the passion Mr. Singer had for a dying language as well as his efforts to bring his stories to a larger audience. Mr. Galay expressed this as a "betrayal to be more famous".
To make a film, instead of a news report, Mr. Galay's team needed to finetune their interviewing skills to get out the right information. As a tip to our students, good interview practice is to not interrupt in the middle and to be relaxed, because, in the end, it is their spirit that is needed, not the superficial story that might come out at first.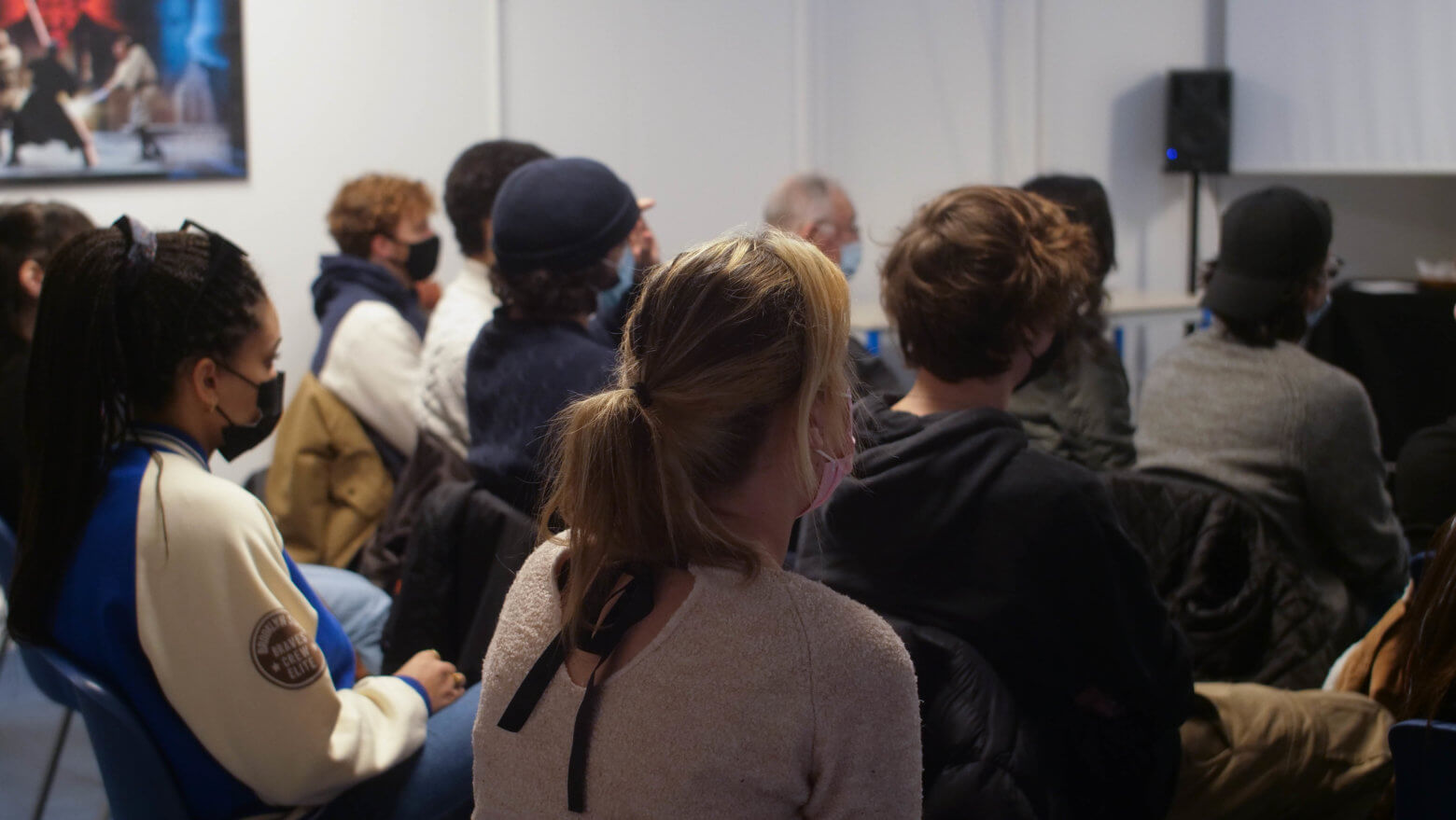 This session was possible thanks to Mr. Galay participating in the Brussels Jewish Film Festival that took place at the Cinéma Vendome from the 8th to the 13th of March. The session was also organised in cooperation with the Embassy of Israel in Brussels. Currently, Mr. Galay is working on a story about four brothers who end up not working so well together, resulting in the collapse of the empire that they were building. 
We would like to encourage all of you to check out Mr. Galay's new film The Adventures of Saul Bellow.